This is one of the blogs that I saved from the Blog Clean Up! This question is one that comes up from anyone who has never booked an exam before. So, I will provide a step by step with screen shots on how to book your Microsoft exam.
Note: In some cases, I have removed personal details.
How to Book your Microsoft Exam
Go to https://www.prometric.com/microsoft/default.htm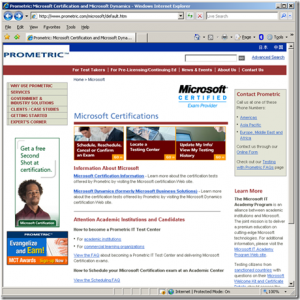 Click the Schedule, Reschedule, Cancel, or Confirm an Exam link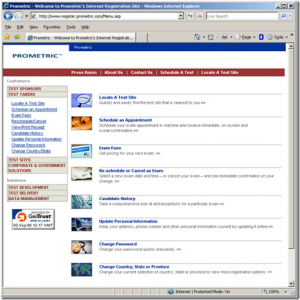 Click Schedule an Appointment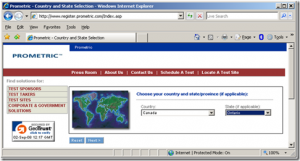 Select your Country and Province then Click Next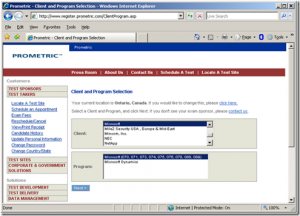 Click Next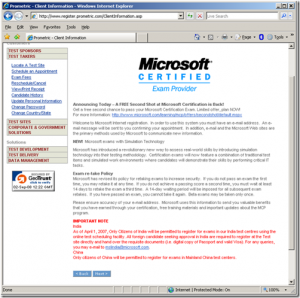 Read details and click Next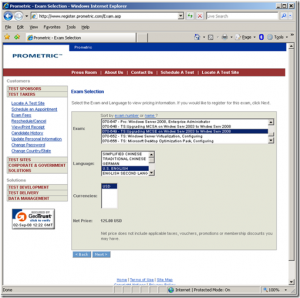 Select the exam you want to take, in my case the 70-649 exam
Select the Language and Currencies of how you are going to pay for this exam then click Next
Note Exam centres are filtered by Country and Province and then sorted by City name, after that they are randomly sorted.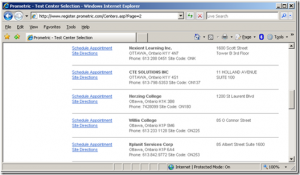 Find the Exam centre that you plan on taking the exam at and then click Schedule Appointment.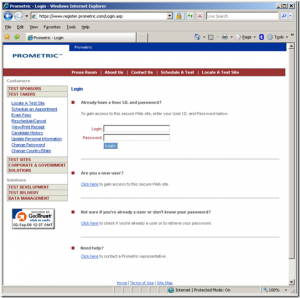 If you are a new user click the appropriate link, else logon using your email address and password.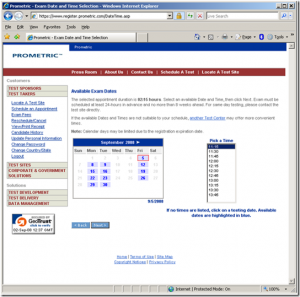 Select date and time for your exam, click Next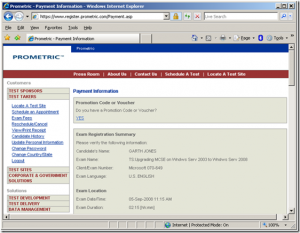 If you are using a voucher to pay or using the 2nd shot voucher code click the YES link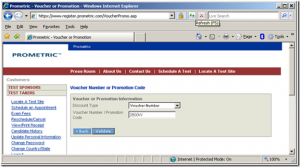 🙂
Click Validate
Pet Peeve: There is no message telling you that your voucher code is correct! This is particularly annoying when you are using the 2nd shot voucher codes as there will be NO indication that the code has been accepted! In my case I am using a fully paid for exam voucher.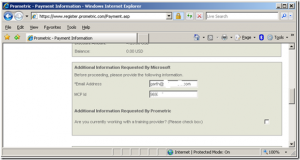 Note: I'm only showing part of the screen, there is just to much info on this screen plus I am removing all the personal data too.
Make sure your email address is correct.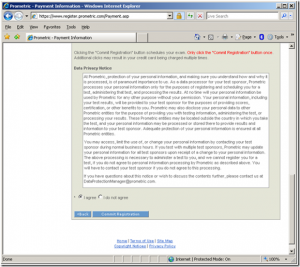 Read the data privacy notice and select I agree
Click Commit Registration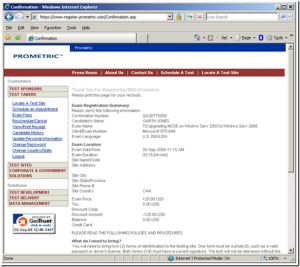 Review the final Confirmation screen. Feel free to print this page.
Email Confirmation
You will receive an email confirmation within the hour or so.
Ensure the following are correct. (They are marked with arrows above)
Address
Both Telephone numbers
Site Name and address
Date and Time
If any of these are incorrect call Prometric right away and get them correct it. If you don't receive the email with a reasonable period of time you can confirm your registration via the web site or you can call Prometric and confirm the exam.
Congratulations on booking your first exam!
Finally, don't forget that you can subscribe to my RRS feed to stay on top of the latest trips and tricks. Additionally, If you have any questions, please feel free to touch base @Garthmj.