This is one of the blogs that I saved from the Blog Clean Up! I'm sure people are asking why save, fix up and republish a blog from 2008 about Certifications? The answer is that I believe in them! I know that a lot of people don't have faith in them but I do! I have faith as I know they help you learn one thing! Every exam that I have taken, I have learned one thing that I have used later! So you do what Free Certifications?
Back in 2008 when this was originally published, Brainbench offered Free Certifications, Now in 2022, I need to look to see do they still offer free certifications! I can see that the list of certs is ever changing for the current list, please see Brainbench Free Tests page.
For Microsoft Endpoint Configuration Manager (MEMCM / MECM / SCCM / ConfigMgr) administrator or for that matter any person, industry certifications are helpful. Even if it is jut for you own satisfaction of knowing that you passed the exam on your own.
Did you know?
Microsoft Offers free cortication's! They are all around Azure Fundamentals, tell my a MECM admin that wouldn't find that useful? You can get more details from Get free Microsoft Certification Exams – Microsoft… – Microsoft Partner Community
Also all Microsoft Beta exams are free too!
Master Microsoft Security (2008)
I took one of the free certifications that Brainbench is offering and I earned a Master Microsoft Security, time to add this to my resume (back in 2008)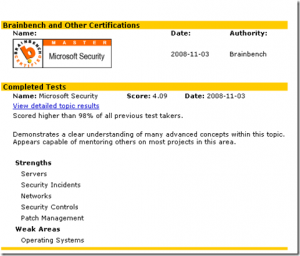 I ranked 29th in the world and 2nd within Canada, with my score! Not too bad.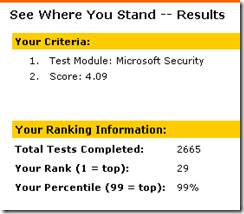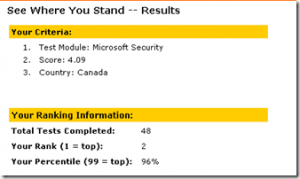 That right, I say free Certifications! BrianBench is giving away lots of free certification.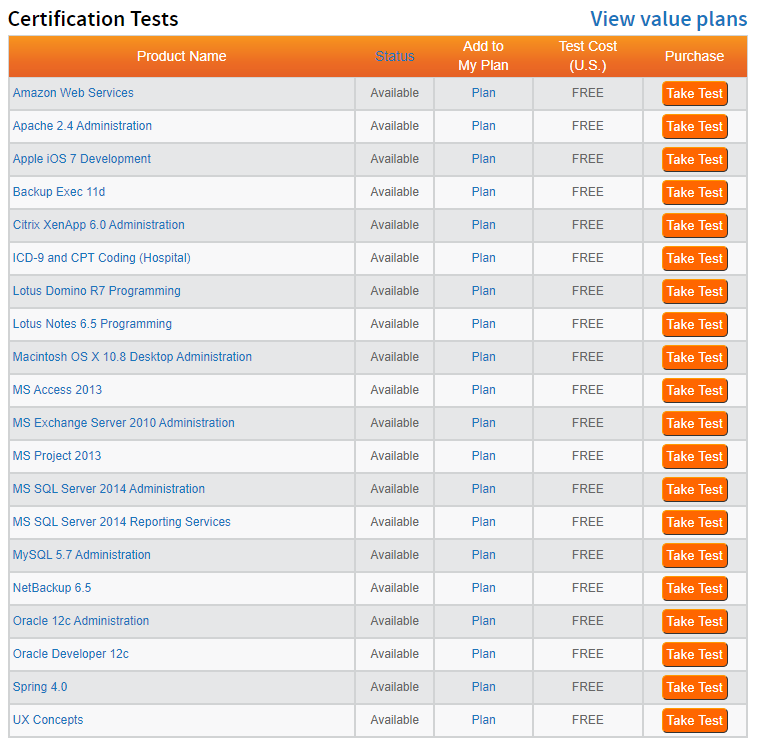 As I update this blog post in July 2022 here are list of them! so what are you waiting for?
Other Free Certifications
A quick Bing search will reveal lots of free cortication program. Most of then are build and give by the vendor to help you use their product more efficiently. For example, TechSmith (SnagIt and Camtasia) have their Academy, it was free for me to enroll when I purchase their software. TechSmith Academy, I have not done the certification (yet) but they have one listed. Snagit 2021 Certification. Or do you need help with marketing, SEO or anything like that? When I was working for Enhansoft, I took a few courses and certification from HubSpot. They help me learn and use their system more efficiently. HubSpot academy is free to everyone ever if you are not a client.
Summary
The point of updating this blog in 2022, is to say that I still believe in certifications for everyone! In every job! I recommend that you take the time to find a cert program that interest you or further your career. Make sure that you add it to your resume. When I hire staff, any cert even if it is not within the job area is an important flag to me that "YOU" are willing to learn. You are willing to "prove" that you know your stuff. Heck, when I was a consultant, the more certs that I had the easier it was for me to get my next gig. Recruiter love me, as they could get more "points" on contract bids. So what are you waiting for?
Don't forget when you are ready to book a Microsoft Exam, review How to book your Microsoft exam.
Finally, don't forget that you can subscribe to my RRS feed to stay on top of the latest trips and tricks. Additionally, If you have any questions, please feel free to touch base @Garthmj.