I love Windows Experience Index and I was truly sad to see that Microsoft removed it from Windows 8.1.
Why did I love it? Well, ask any techy, we get asked by friends and family all the time, "What computer should I buy?"
As an Enterprise Mobility MVP, I'm not what you would call a, "bit head." You know, the person that can tell you exactly why you should buy one video card over another. Bit heads know the performance stats of every hard drive, CPU and motherboard. One of my old roommates was like that and it was great having him around to answer all of those questions!
When Microsoft Vista came out I loved the fact that Microsoft finally came up with their own built-in version of the Norton Utilities system information and desk test. Remember the one from 1985?!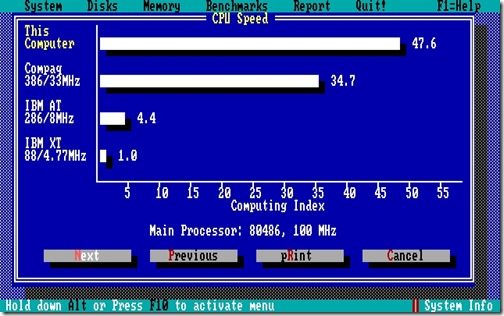 Image curtesy of https://dosbenchmark.wordpress.com/research/norton-si/ @mobygamer.
Windows Experience Index
Microsoft continued updating Windows Experience Index with Windows 7. You can see from the screenshot below that the desktop score for a computer is determined by the lowest score of the five components tested. In this example, Windows Aero has the lowest score of 5.8, so the Windows Experience Index score of this machine is also 5.8.
This also means that two computers that have the exact same value for all items tested will perform exactly the same. If one is slower, it means that there is a problem on the computer. For example, a bad driver or the hardware is about to fail.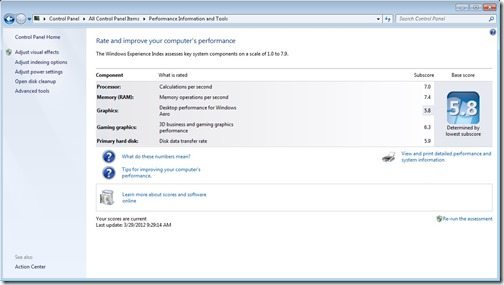 How can I see details about my computer in Windows 10 or Windows 8.1 for that matter?
Open an elevated CMD and run the following command line:
winsat formal -v -xml c:\winstatresults.xml
As winsat runs you will see details such as how many CPUs are installed, RAM information, etc.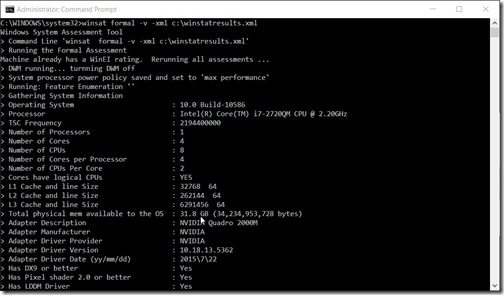 When winsat is finished running, a file called c:\winstatresults.xml is created. This is a typical XML file and it will give you a lot of good information about your computer. In the example below, I opened the XML file within IE. First, notice that my Windows 10 laptop has an overall score of 7.6 (purple arrow).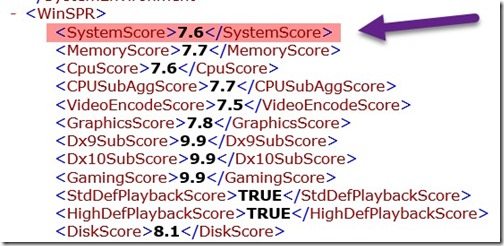 I can also see the actual metrics for CPU and RAM.

Probably one of the most important metrics you can review is the one for disk scores. Yes, there is a SSD drive on this laptop.

Windows 10 and Windows Experience Index
If you love this feature as much as I do and you want the GUI returned to Windows 10, please vote for it:
Windows-Feedback:?contextid=67&feedbackid=2445882d-ce81-4376-9c64-8dab3b8cd35a&form=1&src=2
In order to vote, you MUST already have a Windows 10 computer and you must use the feedback software within it.
If you are not convinced that this GUI needs to be returned to Windows 10, then I hope that you reconsider based on these two points:
· From a BYOD perspective, it makes it easier for IT teams to decide not to support devices that do not meet a minimum score. For example, a Windows Experience Index score of 5.3.
· Windows Experience Index scores could also be used to justify
why Microsoft will not install the latest current branch OS version on an old computer.
If you have any questions, please feel free to contact me @GarthMJ.