With the start of 2019 in full swing, I thought it would be useful to look back and see what posts our readers found to be the most popular in 2018. After reviewing the posts, I ended up creating two top 10 lists. One list is specifically for SCCM posts and the other list shows our overall most popular blog posts from 2018.

I hope you find these lists handy for quick reference, or in case you missed a post or two along the way, here are the blog posts that your compatriots found helpful last year.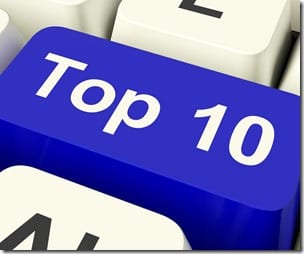 2018 Top 10 SCCM Posts
What stood out for me after looking over this list was that SCCM Admins seem to need extra help when it comes to SQL Server and getting started with reporting.

1. How to Collect Free Disk Space Data in SCCM
2. How to Increase the Maximum Files Size of Management Information Files (MIF)
3. How to Start Editing SCCM Reports with Report Builder
4. How Can I Install Report Builder
5. Windows Authorization Access Group, SSRS and SCCM
6. What is CMTrace?
7. Configuration Baseline Remediation – Configuration Item
8. How to Use RegKeyToMof
9. How to Integrate SCCM Data with ServiceNow
10. Configuration Baseline Remediation – How to Create the Baseline

The popularity of the posts on this list also proves to me how underused reporting is within SCCM and how SCCM Admins want to learn more whether it's reporting with SSRS or Power BI.

I would love to hear more about your pain points when it comes to reporting. What posts could I write that would help you get a better understanding of how to create your own reports and dashboards? Should Enhansoft host an Ask Me Anything (AMA) event specifically for SCCM reporting? Let us know (see our social media links below).
2018 Top 10 Overall Posts
What I found interesting about this list was that several of these blog posts need updating, but they are still highly referenced. For example, the first post on the list is written for Windows Server 2016, but as we know there are new AVMA license keys for Windows Server 2019. Also, the third post should be updated to show how BITS is used between the computer and MP.

I guess I know what we'll be doing this year, so keep an eye out for our updated posts!

1. AVMA License Keys for Windows Server 2016
2. How to Install SQL Server Integration Services Tools
3. Updated – Troubleshoot ConfigMgr Hardware Inventory Issues
4. How Do You Install SQL Server Data Tools?
5. How Do I Enable SQL Server Agent Service?
6. Adding a Calculated Column to a Power BI Table
7. Using PowerShell to Uninstall Applications with Hardware Inventory
8. How to Collect Free Disk Space Data in SCCM
9. How to Create a SQL Server Computer Account Login
10. How to Test Your MP to Confirm If It Is Healthy
Do you have an idea for a SCCM post? Connect with us @Enhansoft or on our Facebook page! Maybe your idea will make our 2019 top 10 blog post list.