In my last post, I performed an FRS to DFSR migration in order to fix up some AD and GPO issues. Soon after that migration, one of the Domain Controllers (DCs) needed to be patched up. I installed all of the updates that were required, but as it turned out, there were more patches than I expected. Upon restarting the DC, during the update process, the DC never came back up. However, something went wrong with the patching. See below for my guide on decommissioning a Domain Controller.
Quickly, I had to spin up a new VM and make a new DC.
What should I do about the old DC?
First, I removed it from Operations Manager to stop alerts from being generated. Second, I needed to decommission the DC.
What is involved in decommissioning a DC? In Windows Server 2012, decommissioning a DC is quite easy.
Accordingly, open Active Directory Users and Computers. Further, next, go to the Domain Controllers node and find the DC in question and delete it.
Afterwards, click Yes to confirm that you want that DC deleted.

As the DC is no longer operational and permanently off-line, ensure that you select the check box and press Delete.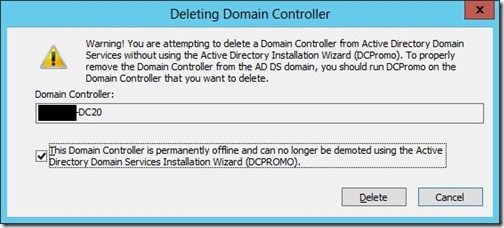 Basically, If the DC was a Global Catalog, you will be presented with another message box. Click Yes.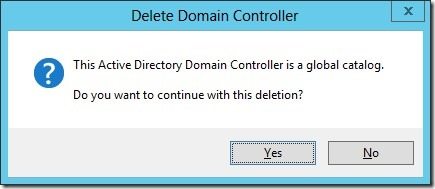 Now, all metadata associated with the DC will be deleted automatically.
If you have any questions about decommissioning a domain controller, please leave a note in the comment section below or you can contact @Recastsoftware.