I review a lot of SQL Server Reporting Services (SSRS) reports and one of the most common problems I encounter is Page Sizing in SSRS Report. What does this mean? Well in short it means when when a report is export or save, it will become all chopped up. To solve this use the Page Sizing in SSRS Report to have the report break where you want it to.
The Problem
Most people design reports to look very nice in interactive mode. But they forget that these reports are often printed or exported to other file formats. E.g. Word, Excel, PDF, etc. 
The last thing you need is someone complaining about not being able to follow your report. Particularly when it is printed out!
Here's an example of what I mean below. Notice in the first screenshot that the Detail Devices section overlaps the page. Where as the remainder of this section appears in the second screenshot?
Also, see how there is a blank area next the Service Pack Version column? In the interactive mode this would be the start of the Model column which you see in the following screenshot.
The Model column is pushed to the second page, so that it doesn't get cut off midway. As a result, this column is shifted to the right.The Console ID column ends up being partly in the Patch Details section.
The solution
To solve this type of problem. I suggest using landscape orientation, a 14" x 8.5" page size, and reducing the number of columns to fit the page.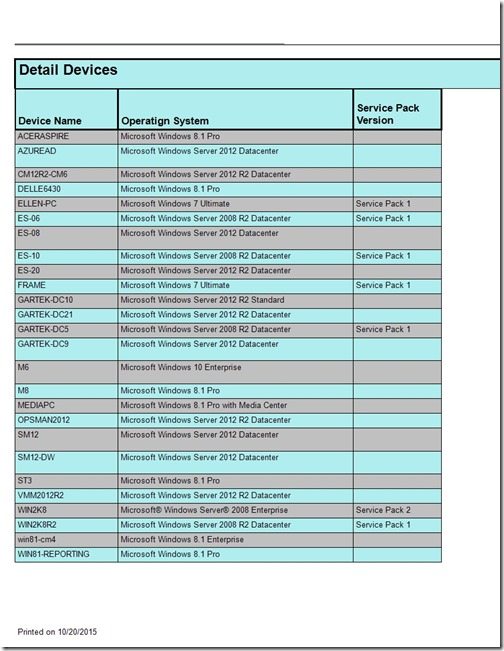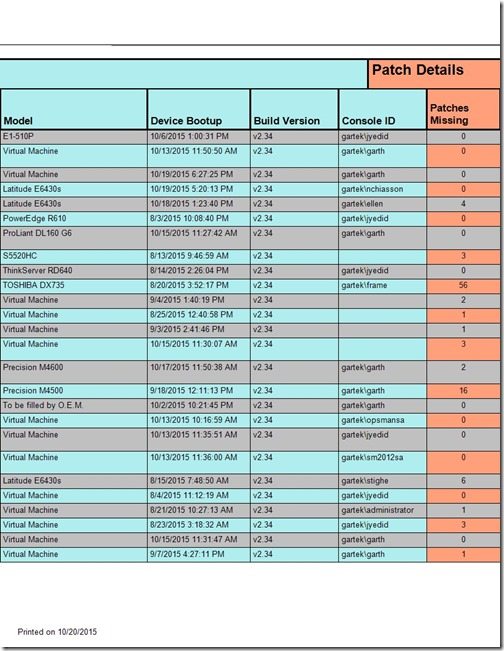 Do you have your own problem with SSRS Reports? Let me know.
Finally, don't forget that you can subscribe to my RRS feed to stay on top of the latest trips and tricks. Additionally, If you have any questions, please feel free to touch base @Garthmj.