The other day I was working with a client to help them setup their System Center 2012 Configuration Manager (CM12) server. As part of the project we wanted to document every step we did, so we used PSR.exe (Problem Steps Recorder). We installed SQL and set the recording. Before moving on to install CM12, we reviewed the PSR output.
When preforming any consulting on Microsoft Endpoint Configuration Manager (MEMCM / MECM / SCCM / ConfigMgr ). I always user PSR to help with the documentation.
Imagine our surprise when we noticed that some steps did not contain screenshots: "No screenshots were saved for this step." Why did this happen?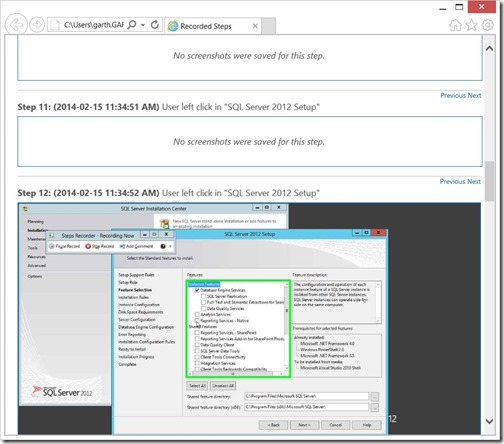 It turns out that PSR will only save the last 25 screenshots by default!
There is both good news and bad news.
The good news is that you can increase the number of screenshots that are captured from 25.
The bad news is that there is a limit to the number of screenshots and it all depends on what version of Windows you are using.
If using Windows 7 / Windows 2008 screenshots can be increased from 25 to 99.
If using Windows 8 / Windows 2012 screenshots can be increased from 25 to 999!
If using Windows 10 / Windows 11 are the same as Windows aka, they can be increased from 25 to 999!
Another drawback of using PSR is that it doesn't tell you when you hit the maximum number of screenshots, so keep this in mind.
Problem Steps Recorder Settings
How to Change the Default Number of Stored Screen Captures
Go to the Settings option for PSR.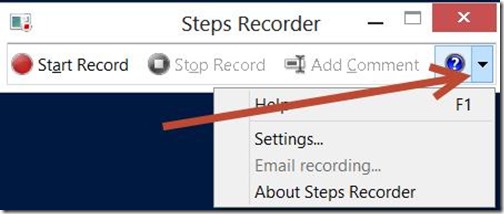 Select the drop-down menu box.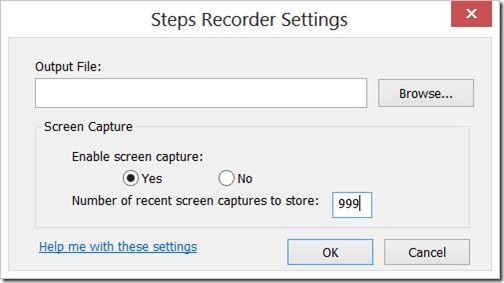 Change the number of screen captures to store and then click OK.
Finally, don't forget that you can subscribe to my RRS feed to stay on top of the latest trips and tricks. Additionally, If you have any questions, please feel free to touch base @Garthmj.