While reviewing Rod's book I was reminded of one of my pet peeves.
One of my pet peeves is when the package source is listed as a drive letter instead of as a UNC path. Why you ask? Have you every tried to troubleshoot why a package is not deploying to a distribution point (DP)?
Example 1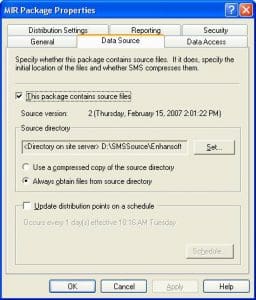 Example 2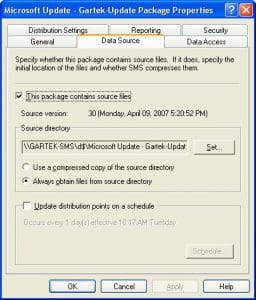 One of the first steps is to confirm that the package source is available. In a large environment this can be tedious, particularly if you are troubleshooting a down-level primary child site or a site that you are not familiar with all the details.
Using the two examples above these are the steps that I would take to confirm the package source location.
For example 1:
– Determine the server name for this site
– Map a drive to that server
– Then drill down to the directory where the file where located.
– Un-map the drive.
Some of these step might seen to be stupid but think about it for a minute. What if you look after a large environment where there are many SMS administrators. Do you know the name of each primary site server, even if you didn't set it up in the first place?
I would regularly have site servers listed in my console that other SMS administrators would manage. This was because I would get a phone call asking for help and I would do so but do you think that I would ever remember the name of each server? No.
For example 2:
– Copy and paste the UNC path to the run command
Like many administrators I follow the Lazy Administrator philosophy. Why do more that you have too?
Finally, don't forget that you can subscribe to my RRS feed to stay on top of the latest trips and tricks. Additionally, If you have any questions, please feel free to touch base @Garthmj.