I get asked all the time, "What can I do to make my reports and dashboards better? What is the best reporting tip you can give me?" Here's my number one recommendation: Do the "little" things! If you pay attention and implement the following four little reporting tips. Your reports will go from looking "blah," unfinished and unprofessional to branded, polished, and professional-looking. In this blog post, I will tell you what four items are needed to upgrade any kind of report or dashboard.
Dashboards or Reports?
Throughout this post I will talk about reports, but this question will undoubtedly come up: What about dashboards? Honestly, a dashboard is one type of report. So when I talk about reports, unless I say otherwise, these tips will apply to dashboards too.
Do These Four Little Tips Only Apply to SQL Server Reporting Services (SSRS)?
No! These reporting tips are recommended for any reporting software, whether it is SSRS, Power BI, Excel, etc.
Reporting Tip One – Add a Title to Your Report
Adding a title might not seem necessary when you are the only one running a report. But what if you need to print or export the report? Will you remember what it is at a later date? Will managers or C-level executives immediately understand what the report is showing them? In most circumstances, the answer to these questions is, "No." Give the report a title! Now anyone will easily know what the report is all about. I document how to do this within my blog post entitled. How Can I Add a Title to a SCCM Report?



Reporting Tip Two – Add a Footer to Your Report
Similar to the first tip, this too may seem like a small thing, but it is often overlooked. Why should you have a footer within your report? A footer is super helpful! It can present basic information such as a company logo, page numbers or even the date when the report was run. Adding a footer with this kind of information gives a report a more professional look. If you need a guide about how to do that. See my blog post: "How to Spruce-up Your SCCM Reports by Adding Page Numbers."

Reporting Tip Three – Add Page Numbers to Your Report
In the previous tip, I talked about the importance of adding a footer to your report in order to display basic information. I'm pretty sure that we'd all agree that adding page numbers to a report is helpful.
Did you know that when you run a report in SSRS' interactive mode you won't know the total number of pages unless page numbers are added to the report?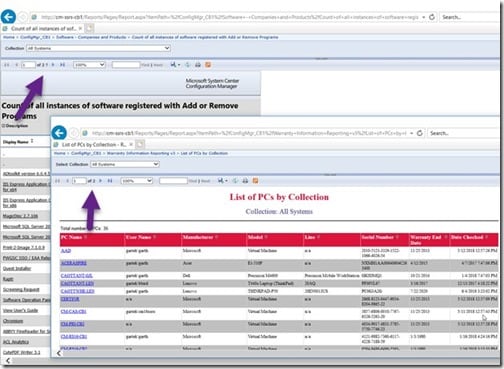 Can you see the question mark in the top report? It indicates that SSRS has no idea how many pages are within this report. In the second report, however, you can clearly see that there are only two pages. Help yourself and your co-workers out by adding a page numbering system to your reports that explicitly states the number of pages. Learn more about this tip in, "How to Spruce-up Your SCCM Reports by Adding Page Numbers."
Reporting Tip Four – Add the Date and Time to Your Report
If you are like most System Center Configuration Manager (SCCM) administrators, you have to deal with Service Level Agreements (SLAs) all of the time. Most often than not, you need to report on SLAs, but reporting is only half of the work! The other half involves saving the results of the report and reviewing them at a later date. How, then, will you know when a report was created? You need to add the date and time to it. Doing so also helps out your Audit Team by providing them with validation that the report was in fact generated on that date and time. Learn more about how to add the date and time to your SSRS reports by seeing this post, "When Was This Report Created? It Needs an Execution Date."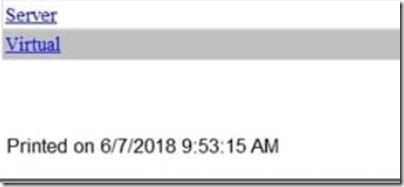 Luckily, most reporting tools make saving the results of a report easy. For example, SSRS allows you to create a subscription to your report. Check out these how-to blog posts: How to Set-up an Email Subscription in SSRS and How to Set-up a Windows File Share Subscription.
Well, there you have it! These four little tips will go a long way in helping to make your reports look finished and professional. I promise to publish more reporting tips in upcoming posts!
If you have any questions about these tips, please feel free to contact me @GarthMJ.