Not many people know that I took my bartender course several years back. As part of my homework for the course, I needed to create drinks unique drinks. Also, as part of this course we needed to edit existing drinks to make them used off the shelf aka "bar rail" ingredients. Now that I'm cleaning up my blog site, I wanted to bring all of this work together within one blog post instead of the several it was before. As part of this updating I'm updating it to add screenshots as needed.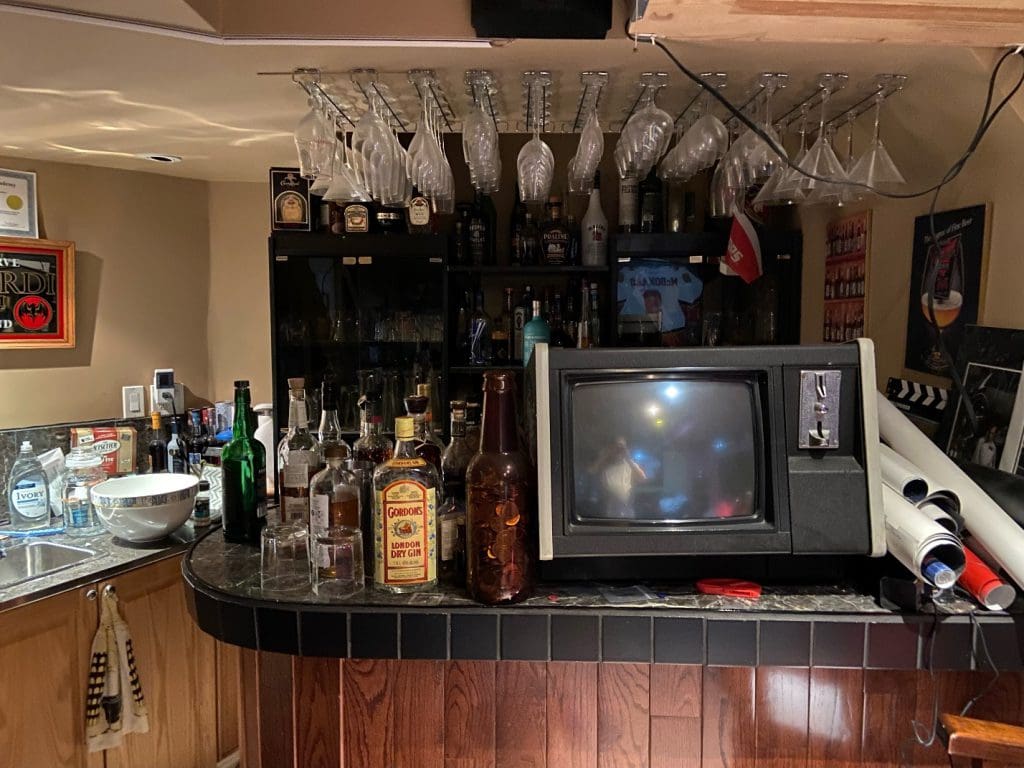 I have already posted I am taking a personal interest course in Bartending to go along with my bar setup. Finally, as part of my final exam, I need to:
Modify four existing cocktails to ( the best two will be selected and graded)

make it cheaper (ie replace Grand Marnier with Triple Sec)
easier to make ( Reduce the number of liquors, thereby making it faster)

Create 4 original drinks:

1 Shooter
1 Short cocktail
1 Cocktail
1 my choice.
So over the last few weeks I have already started this process, Ellen and I have been testing all of the creations. 😊
To help me remember some of these drinks, I blogged them. Both the ones that work and the ones that don't work. In either case I will tell you why it does or doesn't work.
BTW, No, I'm not going for Tom Cruise in Cocktail but I now know how to do the flaming Coffee's! 😊
Original Drinks
Cherry Blossom
Drink type: Shooter
Glassware: Shooter
Mixing: n/a
1/3 Frangelico
1/2 Cream de Cacao
1/3 Cherry Brandy
Story: Ellen like frangelico, so I try to make something that she would like.
Rating:
Ellen: "I liked it"
Me: It taste just like the Cherry Blossom
Catching Some Rays
½ oz Red SourPuss liqueur
½ oz Melon liqueur
1 oz Spiced Rum
Topped with Club Soda
This is a nice light drink, but we (all fours of us) agreed that we should try this with OJ or Lemonade next time.
Macon Whoppie
Drink type: Summer
Glassware: Collins
Mixing: Shaken
1 oz Morgan's Spiced Rum
½ oz Southern Comfort
½ oz Peach Schnapps
Topped with Soda
Story: While working on my homework, Rueben say make a drink based on where John, Rueben's bother lives, Macon, Georgia! One of the sports teams in Macon is named after the Whopping Crane, hence the name.
Rating:
Me: This is a Summer time drink.
Rueben: Nice and light.
Monica: Nice but what would it be like with OJ or peach juice?
Yes, my final exam is today, in just over an hour from now, that is why I'm posting and then printing all the drinks today
Oh Cow!
Drink type: Nightcap
Glassware: Rox
Mixing: Shaken
1 oz Cream
1.25 oz Cream de Cacao
1 oz Oh Canada! or Sortilège
Story: Sortilège is liquor that one of my old office mates introduced me too. Normally I we drink this one the rocks. However because of the bartending course, I thought that I would nice to try this as a nightcap.
Rating:
Ellen: It not too sweet.
Me: I think this is better on the rocks!
Aventura Honeymoon
Drink type: Nightcap
Glassware: Old Fashion
Mixing: Shaken
1 oz Cream
1.25 oz Cream de Cacao
1 oz Xtabentún
Story: Xtabentun is a liquor that Ellen and I were introduced to on our honeymoon and as you can guess from the name, we when to Aventura Spa Palace. Generally, we like Xtabentun as a sipping drink, but I thought that I would try it as a nightcap. The taste of the honey come out more and the anise become more of secondary flavour.
Rating: Since This is the first drink posted, I'm still working out the kinks in the scoring system.
Ellen: She is not a big fan of cream-based drinks, but she found the flavour in this drink.
Me: I like nightcaps and this one will certainly be one of the ones that I will drink!
Drinks Corrections
Greyhound
Original
1 oz Vodka
Topped with Grapefruit juice
Update
Blue Wave
Original
Grey Goose
Raspberry Liquor
Blue Curacao
7up
Update
1 1/2 Oz. Vodka
1/2 Oz. Blue Curacao
1/2 Oz. Raspberry Liquor
7UP
John Collins
Original
2 oz Bar Mix
Sugar
1 oz Rye
Optionally topped with Soda
Update
Pepe Deluxe
Original
Becardi orange rum
Banana Liqueur
Strawberry kiwi Remy
Pineapply Juice
Update
1 Oz. Rum
1/2 Oz. Banana Liqueur
1/2 Oz. Raspberry Liquor
Strawberry Juice
Orange juice
Kiwi Juice
Pineapply Juice
Fire Red Opal
Original
Made with Ketel One Vodka
fresh orange juice
Cointreau
cranberry juice
fresh lime juice
Update
2 Oz. Vodka
3 Oz. OJ
3 Oz. Cranberry
1 Oz. Lime Juice
Paralyzer
Original
1 oz Vodka
1 oz Kahlua
2 oz Cream / Milk
Topped with Cola
Update
1 ½oz Vodka
2 oz cold Coffee
2 oz Cream / Milk
Topped with Cola
Pomegranate Martini
Original
2 Oz. Vodka
6 Oz. 100% Pomegranate Juice- we recommend POM brand
1 Oz. Alize Wild Passion
¾ Oz. Orange Liquor
1 Fresh Pomegranate to use seeds for garnish
Update
2 Oz. Vodka
6 Oz. Pomegranate Juice or Cocktail
¾ Oz. Orange Liquor
Optional 1 Fresh Pomegranate to use seeds for garnish
Steps
Combine in cocktail shaker over ice.
Shake & strain into a chilled martini glass.
Garnish with Pomegranate seeds last.
Old Fashion
Original
Orange, Lemon & Cherry – muddled
Sugar
Bitters
1 oz Rye
Optionally topped with Soda
Update
Orange, Lemon & Cherry – muddled
1 oz Rye
Topped with Ginger Ale
Bonus Drink – ITProtini
At MMS 2009 there as a ITProtini for the closing party, I didn't have a chance to try it but there is the ingredients list. (Thank you, to Paul T.) I have guessed that the proportions.
Drink type: Martini
Glassware: Martini
Mixing: Shaken
¾ oz Blackberry vodka
¾ oz black cherry vodka
½ oz cranberry juice
½ oz pineapple juice
½ oz simple syrup
Needly to say I passed the course!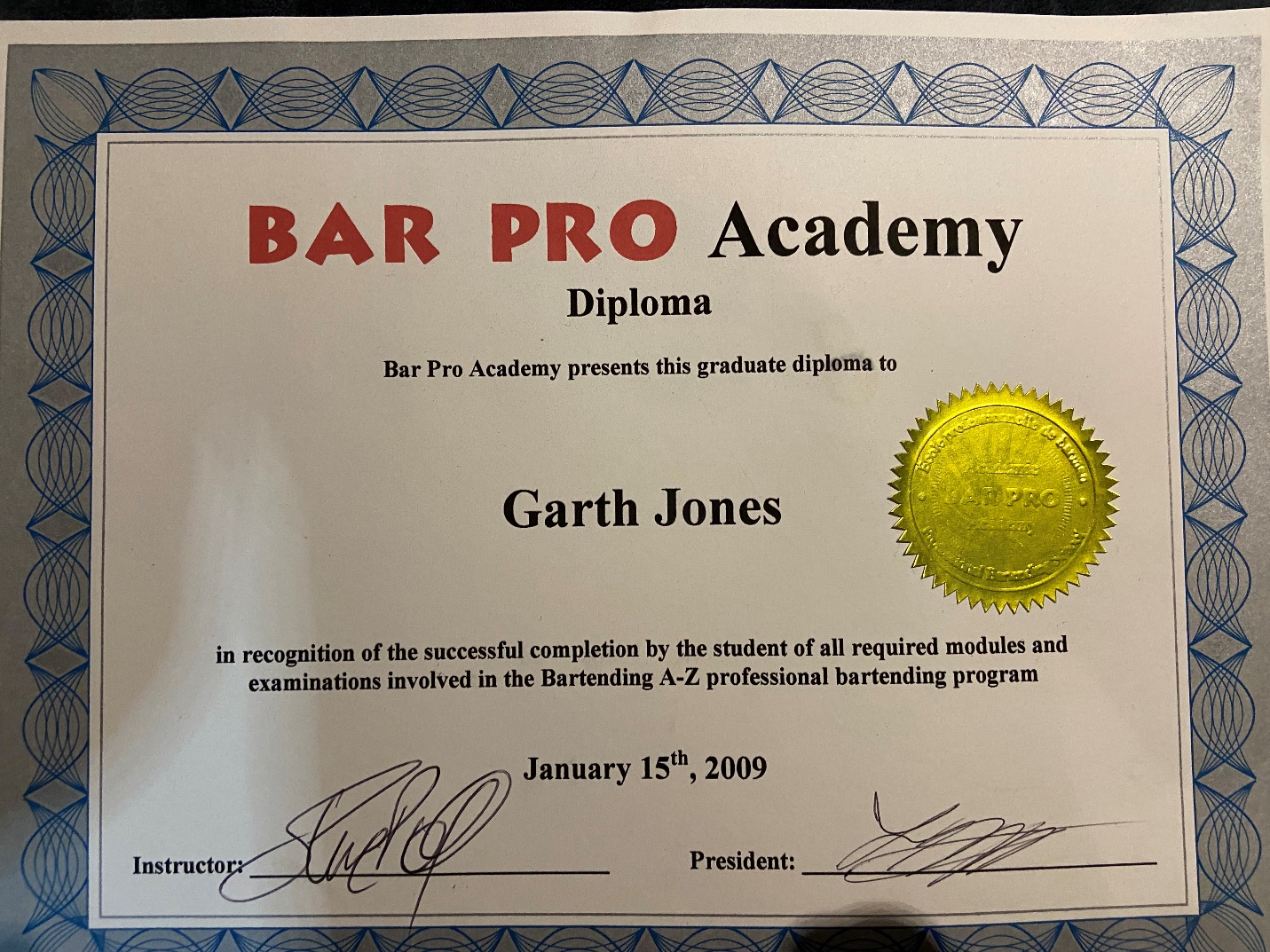 Finally, don't forget that you can subscribe to my RRS feed to stay on top of the latest trips and tricks. Additionally, If you have any questions, please feel free to touch base @Garthmj.