It seems to me that the team here at the Enhansoft Development Studio drinks a lot of coffee! We are always buying more and more coffee pods each week. A while back, we felt guilty about throwing away all of the pods, so we started to collect them. Not knowing what to do with them, we did a bit of research and ran across a company called, TerraCycle. They offer Zero Waste Boxes for just about everything. We ended up purchasing a small box version of their Coffee Capsules Zero Waste Box.
Zero Waste Boxes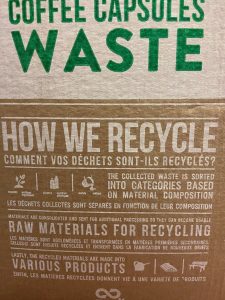 When you read the information on their website (or on the box) you see that individual coffee pods are separated into three major groups: foil, plastic and organics (coffee). Each item is then recycled so that it can be reused! It's just like recycling an aluminum can. On their website they say, "Metals are melted so they may be recycled. The organics (such as the coffee grounds) are composted. The plastics undergo extrusion and pelletization to be molded into new recycled plastic products."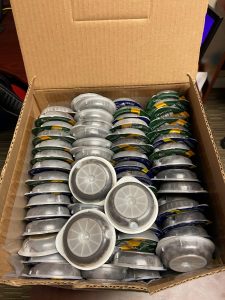 In the above image, you can see that I'm just about ready to close-up the box and send it back to TerraCycle. I'm guessing, if I followed the packing instructions correctly, there are 450 pods in this box. Wow, that is a lot of pods!
If you are looking for a recycling solution for your coffee pods (whether it's for your work or home office), you can purchase a box directly from TerraCycle's website.
I already decided that I'm going to record how long it takes us to fill a box, on average, and then I'm going to compile the number of boxes we fill this year and note it in our annual stats blog post! Looks like I missed writing one for 2019, I better get on that. 😊
Coffee Pod Recycling Tips
Here are a few tips that we learned about using these boxes:
• Find a small box and place all of your used pods in it. When it is nearly full, neatly arrange the pods in the Zero Waste Box.
• There is no need to purchase the Zero Waste Box ahead of time to start recycling. Just start saving those used pods now and then order your box.
• You can find the TerraCycle boxes online at different office supply companies. I noticed that they are generally cheaper there! We saved about $10 when we purchased our box online from Staples Canada.
• When packing the box with used pods, alternate the direction of the pods in each row. This helps get the maximum number of pods into the box.
We feel better about having our coffee (and tea) because we know that these pods are properly recycled and not filling-up our landfills. I'm sure, though, that there is more we can and should be doing to help reduce our impact on the environment. In the meantime, if you have any questions, please feel free to contact me @GarthMJ. Or, you can stop by the Enhansoft Development Studio for a coffee and to see our "pod" box too! Finally, don't forget that you can subscribe to my RRS feed to stay on top of the latest trips and tricks.