During a discussion on the myITforum ConfigMgr /SMS mailing this statement was made "
It's never bad admin mojo to provide a report based on what management seeks. You can either do it or you can't.
"
Without going into all of the details of what this person was looking, I will attempt to explain why what this person was looking for is a bad idea.
This is the type of report his Manager was looking for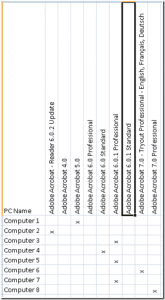 This is a nice report but is not all that practical. First off the manger wanted ever application, Well the average number of ARP rows per PC is 186! To make matters worse, within the database that I used for this example there are 7107 different applications and that does not included the different versions of some application! So my question is how would you even read such a report assuming you could create it? Secondly I turned the titles 90 digress but that is NOT how it would be outputted via web reports! it would look like the screen shot below. How many columns could you get on a page?

You can quickly see that is report is just not feasible even thou the manager want it!
Every manager that I have meet, never understands ConfigMgr / SMS and will asks the world of it even when it is not feasible, practical or doable and for that matter is never really know what they want. As a ConfigMgr / SMS admin your job is to help them understand and provide them the information to help them do their job, sometime that mean saying "No, that is not a good idea. However if we do it this way…." I throw together these reports as a example only using Excel and Query Analyzer. I did this so that I could remove private data such as PC names, User Names, etc., however all of these reports are real.
As a ConfigMgr / SMS Admin should use the power of web reports to give them that they need but in a different format. You will see from the examples below each report lend itself to drill downs from the C–level to Service desk reports. This setup is fairly easy to setup and is useable by everyone, provide the information that is need, in a readable format with little to no modification. For more blog posts on reporting see: SMS Data and Who Should Have Access to Ithttps://smsug.ca/blogs/garth_jones/archive/2007/03/26/232.aspx Garth's guideline for creating web reports.https://smsug.ca/blogs/garth_jones/archive/2007/05/11/342.aspx C-Level Managers
Count of Application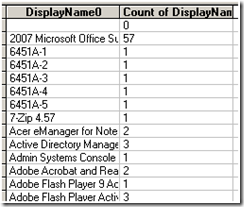 C-Level – 1
Count of Application X by Departments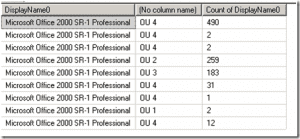 Count of Applications by Department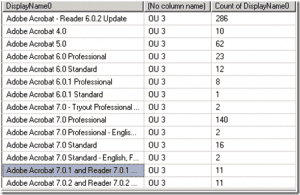 C-Level – 2 List of PCs with Application X in Department Y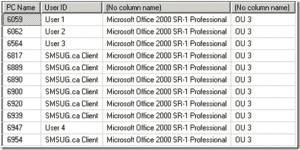 And finally service desk and ConfigMgr Staff want to see all details about the PC and will look at the Machine Details report. <report not displayed>