Yesterday, I receive the typical spam message and every so often I go to the website just checking out the phishing site and to see how bad their really are!
Yesterday I went off to the SPAMMER website and was surprised that I found that the site was not blocked but IE! It look like the normal bank site.
Anyways I was trying to remember how to report bogus websites so that they would get blocked by IE. I could not find the option within IE to reports this site, So I sent a quick email off to Bruce Cowper at MS Canada, I don't remember what Bruce's official title is but it is something like "Canadian Security Officer" or something like that.
Bruce replied with the steps to report bogus site. ( I have expanded them and added the screenshots)
From within IE and while you are on the site.
Select Safety from the tool bar.
Point to SmartScreen Filter then select Report Unsafe Website.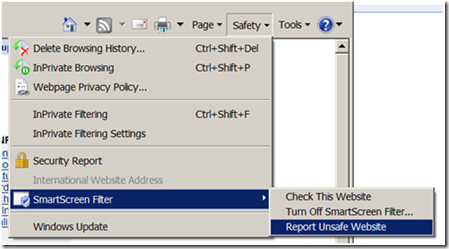 On the MS site, check the appropriate check box
Type the CAPTCHA word and click submit.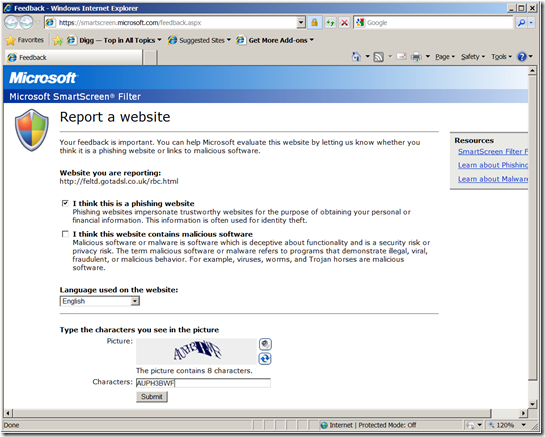 Anyways today I thought that I would blog about this, mostly as a reminder to everyone that if you see a website that is bogus, then report them. Today this is what I got when I tried to get to the bogus site! Thanks Bruce.