As with any conference there are always keynotes presentations in the morning. Rick getting everyone energized!!!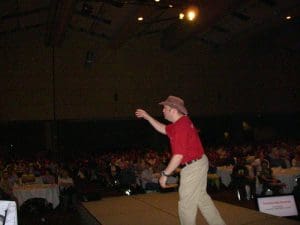 What you can't see from this picture is every so often Rick et al would yell out "ENERGIZE IT" every so often during the keynote and out in the expo area.
Well during the afternoon, Sasha meets up for Rick and asked Rick to introduce Sasha to myself. Sasha and I have talked via email many times but have never met until yesterday.
Anyways, I'm standing at the back of the hands on lab room and I watch Rick slowly poke his head into the room looking towards the front, were he thinks that I would be standing. Just at the moment I follow Rick's lead from the keynotes and yell out "ENERGIZE IT"! Rick jumps about 10 feet in to the air just missing hitting his head on the door frame and back out of the room and Sasha following his lead, the expression of his face was priceless! I wish I had a camera to capture the expression on Rick face.
I did finally meet up with Sasha a few minutes later.
Also keep an eye out for the pod cast from Energize IT, there could be some funny bits within a few of them.