I found out for another MCT that MCT have access to e-learning courses from MS E-learning. I like CBTs, I use the NetG CBTs to help me with my MCSE on NT4. So I thought that I would try the CBT from MS learning for 70-298 (course 2830) since I am finding it hard to read the book.
Well I found a bug within the course and I posted question about how to post a screenshots of the bug within their support forums. Well you can't post screenshots or log file to the forums! This makes troubleshooting near impossible!
I don't know why they have to use the crappiest forums software out there but they do. BTW, It is an early version of the same crappy one that the ConfigMgr team use too for all of the NEW ConfigMgr forums. Someday, MS might put some effort into their forum software (Don't hold your breathe) and make it useable to those that truly use it, until they fix it I will stay with the newsgroups.
Anyway the only way to for the MS Learning team to see bugs is to post the picture to my blog! The title of this bug is "Pardon!!! ", Here it goes.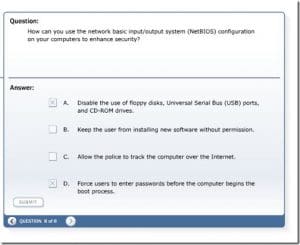 I didn't know that NetBIOS could be used to disable CDROM and make people enter passwords. BTW I guess the right answer from the list of available answers but still…